The Stanley Cup
Author: webmaster | Filed under:
Blogroll
Daddy took Gabriella to see the Stanley Cup today. It was in Tulsa for the weekend and on display for viewing and pictures. We waited in line for almost 45 minutes, but it was worth it. Gabriella was just as excited to see it as her daddy. Of course we both wore our Kings jerseys. There was a reporter from the Tulsa World there and he interviewed us for a story he was doing and we ended up making the cut. The story named us both and even had a quote from Daddy.
Here we are: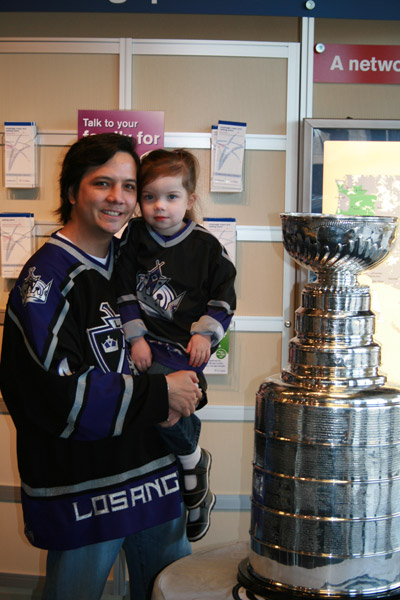 And here's a link to the Tulsa World Story:
Hockey's Big Prize – Stanley Cup Visits Tulsa (PDF 44K)
"I was in awe even when I was still outside looking at it through the glass," said 37-year-old Los Angeles Kings fan Michael Eng, who dropped by the U.S. Cellular store near 71st Street and Garnett Road to bask in the cup's gleam with his 3-year-old daughter, Gabriella.
Interesting facts about the Stanley Cup:
There is only one.
It is the oldest trophy in professional sports.
It was first awarded in 1892.
Each year, the winning team and the players' names are etched into a rung on the cup.
When they run out of space, they add a new rung to the top and take off the one at the bottom and it goes to the Hockey Hall of Fame.